Plant "VORONEZHSELMASH"
On the 26 of September, 2012 Plant "Voronezhselmash" launched a new production site- New plant "Voronezhselmash".
The production capacity of the New plant makes it possible  to say with confidence that Russia gained a modern enterprise, which now is able to cover the country's needs in grain elevator and grain cleaning equipment, not inferior in quality to the equipment of foreign manufacture.
The production facilities of the new plant "Voronezhselmash" are one of the most advanced in the field of agricultural machinery. The advanced Metalworking equipment of foreign production, is unique in Russia, allows making products of the highest precision, quality and almost any level of complexity. The production capacity of "Voronezhselmash" provides substantial volume of orders and exact dates of performance.
Highly skilled experts: designers and engineers, machinists, engineers and researchers are able to  find efficient and up to date technological solution. The focus of our work today is the construction of facilities on the principle of "turnkey" - grain elevators, feed mills and seed plants, grain cleaning and drying complexes. For this purpose, on the basis of "Voronezhselmash" operates an Engineering center that is  experienced in  General Contracting in the construction of post-harvest storage and grain processing  of any complexity. High quality of manufactured products of supplying services, individual approach to each client, flexible pricing policy, as well as meeting the deadlines of orders, is the hallmark of "Voronezhselmash. "Voronezhselmash" collaborates with Rosselkhozbank, Rosagroleasing and Sberbank of Russia
Our specialists may help you get a loan for our equipment on favorable terms and assist in preparing the necessary documentation.
May our relationship last long!
Commercial offer
The basic equipment list. Technical data specification and pricing:
Position

Item

 

 

1

Tower-type  louvered drier SVM 8-8 equipped  with diesel burner

designed for drying seed corns,   bean cultures, grains, brewing barley, sunflower, rape, rice, corn, and all kinds of food grains with any initial humidity, other kinds of crops such as  rape and the bran of the grains.

Productivity-  when drying wheat (19-15% heating+cooling , t=100 +/-5°C): 61 t/h

- when drying corn  (25-14%, heating+cooling, t=120 +/- 5°C): 17,3  t/h

- when drying sunflower (12-7% heating+cooling, t=95 +/-5°C): 26,7  t/h

Total capacity :68,3m3

 Type of burner – diesel

Specific energy consumption  not more than - 1,07  kW•h/t

The total installed capacity , not more than 45,9  kW

 Liquid fuel consumption while removing the moisture by 1%per 1 t, not more 1,2kg

Weight and dimensions:- length ( dust collector inclusive ): 10 420 mm;

- width: 2 710 mm;

- height: 21200;

-  structural weight :17250kg.

Set of grain dryer package includes the following items :

 damper bunker – 1 item;

axial fans with cyclopentane and dust collectors -3 items;

Diesel burner– 1 items;

thermal insulation;

control сabinet with electric cable products  – 1 items;

grain temperature sensors ;

air temperature sensors ;

grain level sensors -3 items;

audible alarm ;

warning audible alarm

Total:

7 509950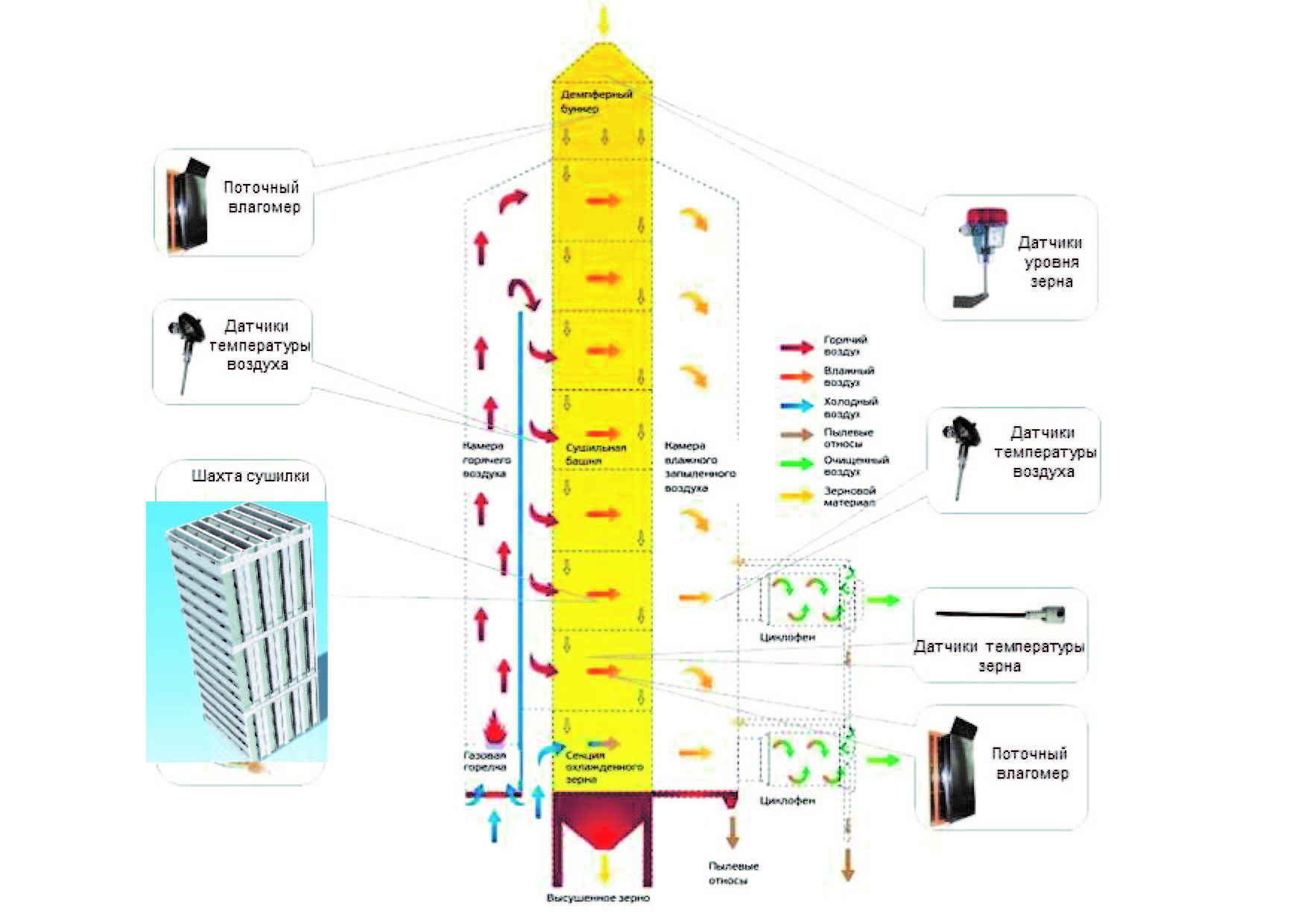 Column of louver-type drier
The grain moves through the grain columns under the action of gravity. Hot air through the inlet air channel passes through the downward moving grain layer and exits through the outlet channel. The grain dryers of  Voronezhselmash – professional approach to grain drying
Perfect for drying corn, wheat, rice, sunflower, bean cultures and seed material.
2. Low fuel and electricity consumption. Per 1 t/h: gas - 1,1-1,3 m3, electricity - 0,17 kWh/t.
3. High reliability design. Drying tower made of galvanized steel (the thickness of the steel - 1,8 -2,0 mm, zinc coating – not less than 380 g/m2).
4. Modular design. The possibility of upgrading to more efficiency.
5. High resistance to fire. The availability of fire suppression systems and fire detection.
6. Thermal insulation and the dust collection system.
7. The thickness of the dry grain to 120 mm.
8. Capability to use different types of fuel - gasoline, gas, fuel oil, etc
9.  The grain drying is equipped with the system temperature control of grain heating by zones. Performed by means of a system of temperature sensors in zones of heating and coolin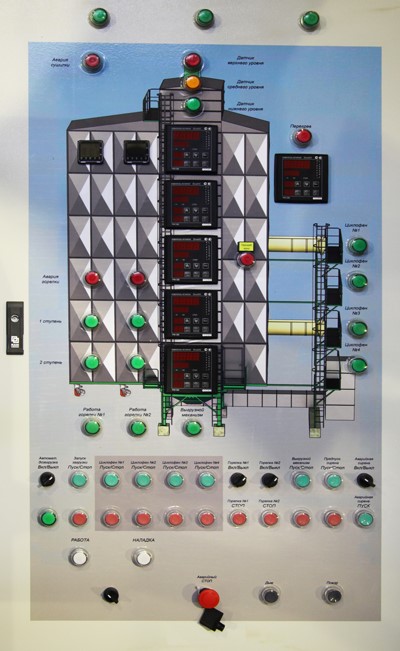 The remote control  of the grain dryer